These days, men want to put their best face forward as much as women. However, men often have unique concerns about their appearance and plastic surgery that stops them from pursuing it. Many are afraid of looking "overdone" or too "feminized" after surgery. Modern plastic surgery for men focuses on creating natural, masculine looks to improve both appearance and confidence.
If you want to take control of your appearance, then it might be time to consider Plastic Surgery for Men.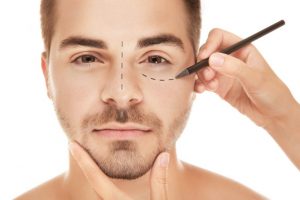 Plastic Surgery For Men In Sydney
Dr. Robert Drielsma is Sydney's expert in Plastic Surgery for Men, specializing in improving your appearance without compromising your masculinity. With over 20 years of experience, and renowned for pioneering many of surgical techniques used in Australia, you will be in professional hands with Dr. Drielsma.
There are a number of procedures available for men to reshape your body, improve facial contours, reduce the signs of aging and repair the harsh effects of sun exposure. Sports and work-related injuries can leave visible damage that can impact your self-confidence. Plastic Surgery designed for men can enhance your appearance, reducing wrinkles, moles, age spots, and scarring.
Some men struggle with stubborn fat and excess skin after weight loss, or are forced to live with unsightly and uncomfortable "man boobs". These issues can impact your confidence and even career choices. Plastic surgery can help you look as good on the outside as you feel on the inside.
Dr. Drielsma's scar minimizing surgery has been perfected to create masculine looking, natural results that will leave you looking as youthful as you feel. Take control of your body and your confidence today.
For more information on Plastic Surgery for Men procedures, please click the links below.
NEXT STEP: Book your Initial Consultation
Call on 1800 180 777 to arrange your surgeon consultation appointment.
A Referral from your GP or specialist is helpful but NOT essential – you can have a consultation without a GP Referral
Book a consultation with Dr Drielsma by paying the $100 deposit for consultation fee.
What to Bring to your Surgeon Consultation
Bring a friend or relative to help discuss the information and consider your choices
Also take lots of notes and read the documents provided thoroughly
You may need to undress for a physical exam so wear simple clothing
Want more information before scheduling your Surgeon consultation?
Request further information about the procedure – call or contact us
Book a Complimentary patient Advisor Consultation (FREE)
Organise a phone call with Patient Advisor (FREE)
Speak with a past patient that has had the procedure – call or contact us