Post op photos taken 3 months after surgery
BEFORE AND AFTER PHOTOS
Also known by the medical terms, "mammoplasty" and "bilateral reduction mammoplasty", this procedure aims to reduce breast tissue and tighten the skin. As a result, the the size of the breasts are reduced, thanks to the removal of tissue. This addresses both aesthetic and functional concerns.
Breast reduction may help to alleviate painful symptoms associated with macromastia (large breasts). Lightening the upper body also allows for better participation in sporting and recreational activities
Dr Drielsma, Specialist Plastic Surgeon – has experience and expertise in Breast Reduction Mammoplasty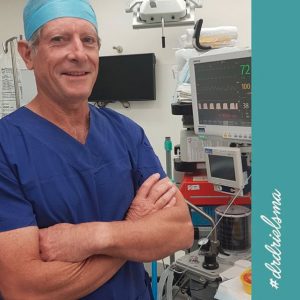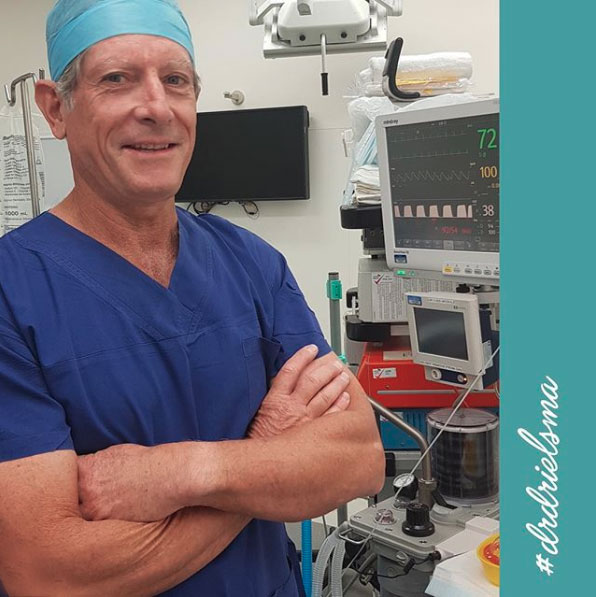 Dr. Robert Dielsma is a Specialist Plastic Surgeon who offers surgery from smaller to very large sizes – A cup to J Cup. Dr. Drielsma is available for consultation at Bondi Junction ,  Wagga Wagga,  Camden and Canberra.
Breast Reduction Mammoplasty Sydney Before and After Gallery
Click the image below to see the results of Dr. Drielsma's Reduction Mammoplasty patients.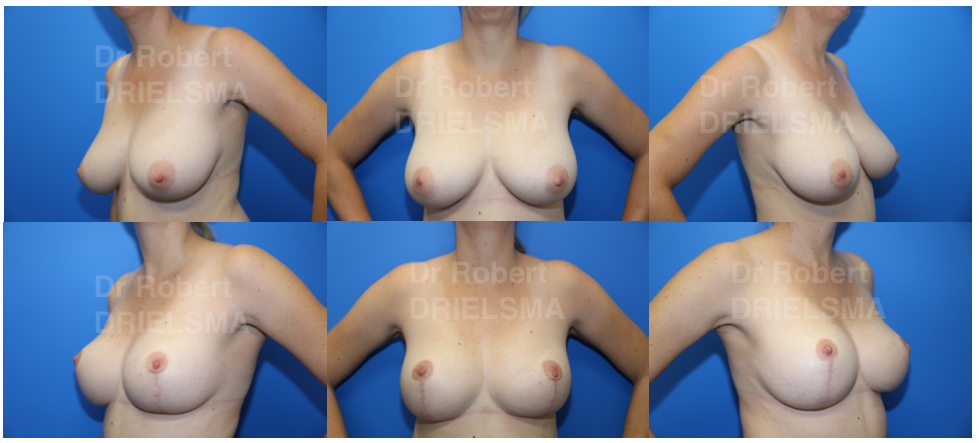 Should I Get Breast Reduction Mammoplasty Surgery?
Breast reduction mammoplasty is a common procedure to reduce heavy breasts. It allows for the reduction in cup size, while also helping to alleviate functional concerns.
Unfortunately, larger breasts may cause many physical issues in some women. Women with large breasts may find it difficult to find bras that fit comfortably or that are big enough. Larger breasts may also cause grooves in the skin, where bra straps often cut into the shoulders. In addition, finding clothing that fits right, can prove difficult. As a result, every day social and recreational activities may be difficult to participate in.
As well as physical discomfort in the form of back, shoulder and neck pain, oversized breasts may also interfere with recreational activity such as sports and physical activity.  Large breasts can also cause chafing, skin infections and rashes.
Large breast reductions may also help reduce skin irritation and infections under the breasts. Breast reduction mammoplasty will always involve a lift (mastopexy).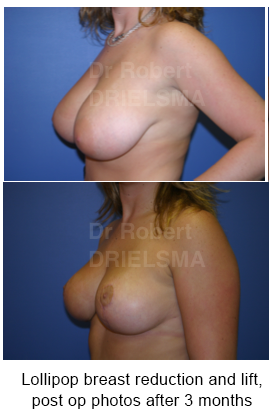 The Reduction Procedure
Breast reduction mammoplasty surgery aims to alleviate physical pain and discomfort. It should only be performed by a fully qualified Specialist Plastic Surgeon, in an accredited hospital, under general anaesthetic.
Dr Drielsma is a Specialist Plastic Surgeon. He will perform your breast reduction mammoplasty operation in a fully accredited Australian hospital. He only works with appropriately qualified teams of surgical staff and anaesthetists in fully licensed facilities.
Theatre time is generally 3.5 hours, though this time varies depending on the patient and the degree of surgery the patient needs to achieve the results required.
During your procedure, Dr Drielsma will surgically remove the necessary amount of breast tissue to reduce your breast proportions and overall breast weight. Your breasts determine the amount of tissue Dr Drielsma will remove – the larger and fuller the breast, the more weight is removed.
Many patients may be concerned about their areola after breast reduction.  Your nipples are moved upwards to sit higher on the breast mound and the remaining tissue is adjusted.
Dr Drielsma employs the most appropriate technique for each patient to suit your body and your needs. However, all breast reduction surgeries will take the following into account:
Your existing breast tissue
The size and weight of your breasts
Position of the breast and nipple
The health and elasticity of your breasts
Your underlying chest muscles
Your desired result
Your preferred nipple size, appearance, and location
What about Different Types of Breast Reduction Mammoplasty Techniques?
There are a number of breast reduction mammoplasty techniques and the one used for your procedure depends on the surgeon and on your personal needs. The most appropriate procedure for you is something you will need to discuss with Dr Drielsma during your consultation.
The two methods most recognised in Australia are the Vertical "Lollipop" technique and the Anchor or "Inverted T" incision technique. Also known as a LeJour Breast Reduction, the Lollipop technique is generally Dr Drielsma's preferred method.
You may hear or read about the Benelli or circumareolar method.  This method is avoided by Dr Drielsma as it results, predictably and consistently, in
1) flattening of the breast with loss of projection, 2) puckering of the scar around the areolar and, 3) stretching of the nipple-areolar complex following the surgery.
Dr Drielsma performs the lollipop technique in over 95% of cases and has performed thousands in his years' of surgical practice.
The "Lollipop" Technique:
Aims to deliver a rounded natural shaped result. This is due to the fact that the lollipop breast reduction mammoplasty does not remove skin from the fold under the new lifted breast and so does not constrict the lower breast pole skin envelope. This means the remaining breast tissue can generally settle into a natural rounded shape.
The natural shape of a lollipop reduction/lift helps to provide a maintained long term result. The shape tends to improve with time.
An internal bra sling, using only natural tissue, is used to give added support to the lower pole of the breast.
Dr Drielsma also performs inverted T/anchor reductions where necessary (in about 5% of cases) when the breast size is at the very upper end of the scale, and are just too large for the lollipop method.  This is usually judged by a sternal notch to nipple distance of greater than 38 cms.  An anchor breast reduction mammoplasty does leave longer  scars compared to the lollipop breast reduction method that Dr Drielsma prefers. Inverted T or anchor techniques tend to produce squaring or boxiness of the lower breast pole.
Dr Drielsma will discuss this in detail with you following examination at consultation.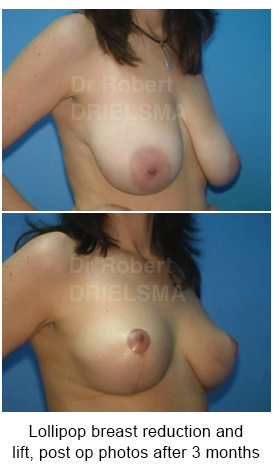 Are You a Suitable Candidate?
Choosing breast reduction mammoplasty surgery is a deeply personal decision. It is important to have a private consultation with a fully qualified Specialist Plastic Surgeon, to determine if this is the right procedure for you.
Dr  Drielsma is a Specialist Plastic Surgeon.
You may consider surgery to reduce breast size if:
You dislike having large breasts or feel they are out of proportion with the rest of your physique
You find your participation in social or recreational activities is restricted because of your breast size
You are suffering physical symptoms such as back, shoulder and neck pain
Your breasts are asymmetrical
You have difficulty fitting in bras or clothes because of your breast size
Your breasts cause skin infections and rashes
How Much Does Breast Reduction Mammoplasty Cost?
The cost of reduction mammoplasty will depend on the surgeon's fee, the anaesthetists fee and the hospital and theatre fees.  Surgical fees can vary from patient to patient and can not be given prior to consultation.
Price is a poor indicator of the training or experience of a surgeon. Always do your research to avoid dangerously under-priced surgery or ridiculously overpriced surgery. Shopping around based on price is a dangerous way to choose your surgeon.
The more important issue, for you, is that you are satisfied the surgeon you choose is a Specialist Plastic Surgeon who will be doing your breast reduction mammoplasty safely and well, giving you the desired outcome. You should be happy with the quality of service and experience you are being offered for the price of your surgery.
Specialist Plastic Surgeon, Dr Drielsma, can give you further information during your breast reduction mammoplasty consultation.
Medical Breast Reduction Mammoplasty and Medicare
In most cases of macromastia or large breasts,  your procedure will be considered medically necessary. As a result, you will be able to claim back some of your procedure through Medicare and if you have private health insurance, your hospital costs may be partially or fully covered. Discuss breast reduction costs and Medicare coverage with your specialist plastic surgeon.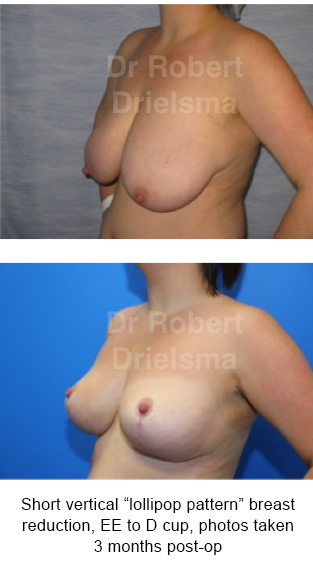 Recovery
As with all surgical procedures, there will be a period of recovery following your surgery.
One night in hospital is required following surgery. Drains are placed in each breast which are easily removed the next morning before discharge. Dressings on the breast lollipop stitch lines are kept dry for a week, following which they are simplified and showering is permitted.
Swelling from your procedure can take up to 4 to 6 weeks and some 6 months or so to settle into their final size and shape.
Most patients require about 2 weeks off work. We recommend patients do not return to normal physical exercise for around 6 weeks.
Breast Reduction Scarring
It is important to remember that all surgery involves scarring. Your ultimate level of scarring will depend on several factors, including the technique used.
Scars soften and fade in a maturation process that takes up to 2 years to complete after surgery.
Breast Reduction Sydney Before and After Gallery
Click the image below to see Dr Drielsma's patients.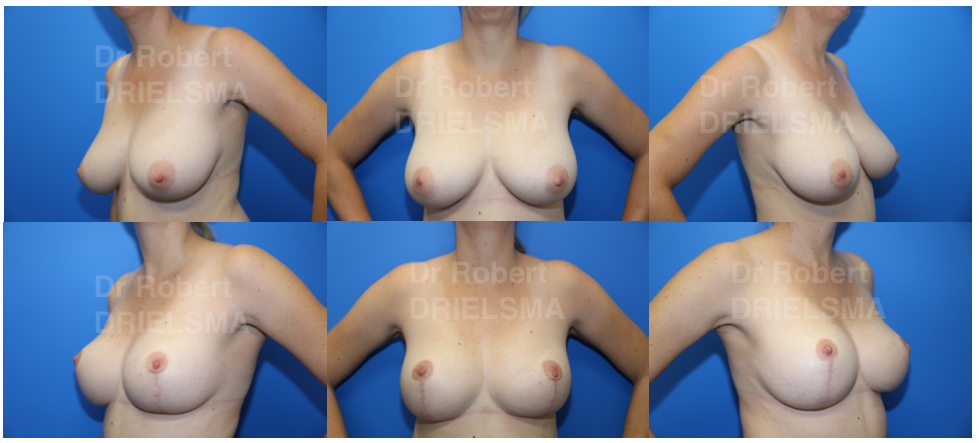 What Are the Risks of Breast Surgery?
As with any surgical procedure, there are potential risks and complications when it comes to breast reduction mammoplasty surgery. These complications are unusual but can involve bleeding and infection.
Implications for Breast Feeding
In a significant number of cases it is possible that your breast reduction mammoplasty surgery may affect your ability to breastfeed. This is due to the removal of breast tissue and disconnection of remaining breast tissue from the nipple. It is important to discuss any future plans to breast feed with Dr. Drielsma during your consultation.
Breast Growing Back
Gaining weight, pregnancy and breast feeding can cause breast tissue to regrow, however this not a common issue. In these unusual cases you may need a secondary procedure.
Surgeons can perform breast reduction mammoplasty for those who are overweight. However, for the best surgical and aesthetic results, it is better to reach your goal weight before having surgery.
Accepted Side Effects
There are also surgical side effects that are expected, such as scarring and sensation changes. Your surgeon will explain these all aspects of these side effects, in detail, during your consultation.
The procedure requires a general anaesthetic and your anaesthetist will discuss the possible discomforts and any possible complications that may occur.
Although every attempt is made to obtain symmetry and natural breast shape, as with all women and natural breasts, there may be some difference in the final size and shape of your breasts, and areola and nipple position. Treat you breasts as sisters, not twins.
Resources
Australasian Society of Aesthetic Plastic Surgeons. November 2018. Breast Reduction. [online] Available: https://aestheticplasticsurgeons.org.au/your-surgery/breast-surgeries/breast-reduction/ (accessed November 28 2018)
International Society of Aesthetic Plastic Surgeons. November 2018. Breast Reduction Surgery 101. [online] Available: https://www.isaps.org/blog/breast-reduction-surgery-101/ (November 28 2018)
Australian Society of Plastic Surgeons. November 2018. Breast Reduction. [online] Available: https://plasticsurgery.org.au/procedures/surgical-procedures/breast-reduction/ (accessed November 28 2018)
International Society of Aesthetic Plastic Surgeons. November 2018. Breast Reduction. [online] Available: https://www.isaps.org/procedures/breasts/breast-reduction/ (accessed November 28 2018)
International Society of Aesthetic Plastic Surgeons. November 2018. The Benefits of Breast Reduction. [online] Available: https://www.isaps.org/blog/benefits-breast-reduction/ (accessed November 28 2018)