Breast augmentation may be the solution for you if you ask yourself the following questions. Do you want your natural breasts to look fuller?  Do you feel flat chested or out of proportion?  Have you always wanted larger, natural-looking breasts?  Do you desire better cleavage?  Are your breasts uneven or misshapen?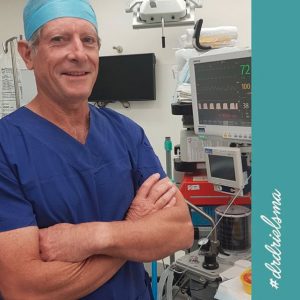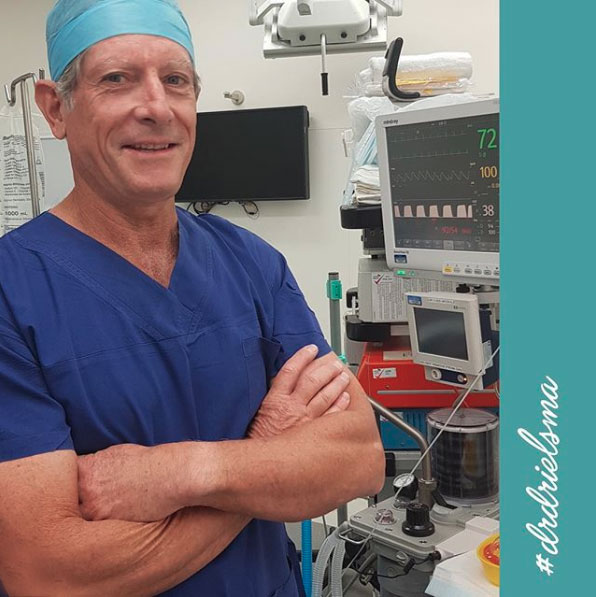 Do You Wish You Had Larger, Natural Breasts?
Many women equate their beauty and femininity with the look and size of their breasts. Smaller breasts that leave us looking and feeling flat chested can be a source of embarrassment or ridicule.  And, in some case, genetic issues can cause our breasts to be out of proportion, misshapen or even malformed, in the case of tuberous breasts.
You may find you have difficulty in finding bras that fit, or dresses that suit your smaller breasts or flatter chest.  Perhaps you find yourself buying padded or push up bras to get the same desirable cleavage as your friends.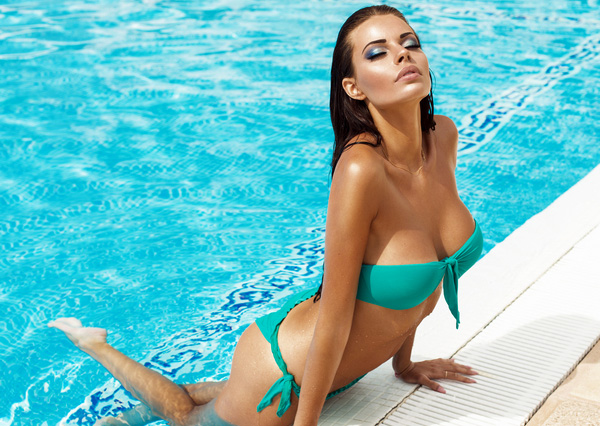 Sydney Breast Augmentation Specialist!
If this sounds like you, you might want to consider Breast Augmentation Surgery.  Breast Augmentation – also known as Breast Enlargement, Mammoplasty or Boob Job – enlarges the breast using breast implants.  It is an extremely popular, well-regarded surgery that will get you looking and feeling amazing in no time.  Modern techniques mean that you will be back at work quickly, with minimal scarring.
Breast Augmentation seeks to refine, enhance, and reshape your breasts while maintaining a natural look and feel.  It leaves you with a more feminine silhouette and better cleavage.  Your procedure will involve choosing appropriately sized implants to suit your needs and desires.  Nipple and Breast Lift surgeries are often combined with Breast Augmentation in order to ensure the most natural looking breasts possible.  You may also like to explore fat grafting to your breasts in combination with breast augmentation, breast lift or nipple surgery to create a natural look and feel.
Patients see many improvements thanks to breast augmentation, including:
Larger, fuller, and more shapely breasts
Better cleavage
Corrected nipple size
Reduces breast ptosis
Improved breast symmetry, Tuberous Breasts or other genetic issues
Increased confidence
Your breast augmentation procedure will be customised to suit your needs and your body.  However, all surgeries will take into account the following:
Your existing breast tissue
Position of the breast and nipple
The health and elasticity of your breasts
Your underlying chest muscles
Desired shape and size
Your choice of implant size, shape, and type
Breast Implant Options
Did you know there are a variety of breast implant options when you are seeking a boob job? You have the choice between silicone or saline implants, and round or anatomically shaped.
Saline implants are often described as having a "water bed" feel.  Some even report a slight ripple effect that can be seen through the skin.  This can be remedied to an extent by using smooth surfaced, round implants that are overfilled (within manufacturer specifications) creating a firmer feel.  Should an implant rupture, it will deflate and the saline easily absorbed by the body.
Silicone implants have a lower incidence of rippling than saline implants thanks to the consistency of silicone gel.  They have a more natural feel, designed to mimic breast tissue.  However, unlike saline implants, silicone implants will not be absorbed by the body and can cause issues with hardening of the breast or capsule contracture.
Breast implants come in a range of shapes and sizes, meaning you can choose almost any size for your breasts.  This range of choice means you and your surgeon can choose the best size for your body and desires.
Breast implants also come in different shapes – round and anatomical. Should they rotate in the breast pocket, this won't affect the shape of your breasts.  Anatomically shaped breast implants are tear drop shaped and often give you a more natural look.  However, if an anatomical implant rotates in the breast pocket, it will need to be repositioned to restore the correct appearance.
What About Breast Augmentation Scarring?
You must remember that all surgery will result in scarring in one form or another. Breast Augmentation surgery is no different. Your level of scarring will depend on a variety of factors, including incision methods and genetic disposition to scarring.
Breast Augmentation Before and After Gallery
You are not alone in your desire for larger, more proportional breasts. Many women choose to undergo breast augmentation surgery (or boob job) to improve their self-confidence. Most patients can't believe they waited so long to improve their breast size and cleavage!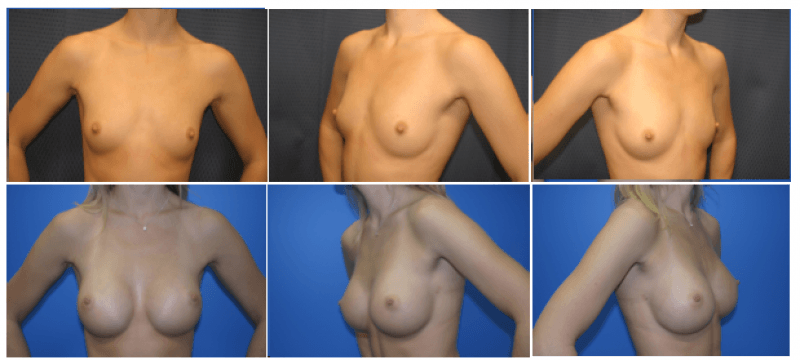 BEFORE AND AFTER PHOTOS
Breast Augmentation Surgery Sydney
Dr. Robert Drielsma is a leading Sydney expert breast surgeon, specialising in improving the size of your chest, while maintaining a natural look..  Dr. Drielsma is available at Bondi Junction, Camden, Wagga Wagga and Canberra.
If you would like more information on Breast Augmentation and your options, or if you would like to book a consultation with Dr. Drielsma please call 1800 180 777.
Breast Augmentation FAQ
What Downtime is There for Breast Augmentation Surgery?
Breast Augmentation is performed in an accredited hospital, under general anaesthetic by Dr. Drielsma.  The operation lasts around 1.5 hours, though this can change depending on each patient. Dr. Drielsma specialises in no drain surgery and you will be able to go home around 3 hours after surgery. You will be able to go back to work after a week but it is recommended you avoid exerting yourself or going to the gym for at least 6-8 weeks until the bruising and swelling reduces.
When will I see Results?
You will see immediate results.  However, swelling can take up to 6-12 months to fully subside and for your breast implants to settle into their final position.
What Complications are There?
There are possible complications with all surgical procedures and these will be discussed with you during your consultation. Complications with Breast Augmentation done by accredited Plastic Surgeon are rare. Some patients may develop a firm layer of scar tissue around their implants which can make the implant hard or painful – also known as "capsular contracture". This can cause breast asymmetry and may require a secondary, corrective procedure. Nipple sensation can be increased or decreased but will improve with time.
Will I Be Able to Breast Feed?
It is important to remember that not every woman can breast feed, even without breast surgery.  However, most patients should be able to breastfeed after breast augmentation.  Be aware that, due to hormonal changes associated with pregnancy, your breasts may droop or sag and require a corrective
Breast Lift
at a later date.
What is the Cost of Breast Augmentation?
The cost of Breast Augmentation varies from patient to patient and surgeon to surgeon, depending on what you want to achieve with your augmentation.  It is important that you always do your homework when looking for a Plastic Surgeon. You should be happy with the quality of service and the experience of your chosen surgeon for the price of surgery you are being offered.
Be aware that cheap, overseas boob jobs are dangerous and often leads to the need for expensive corrective surgery.  Avoid risk of rupture, rejection, or infections by using an accredited Australian Plastic surgeon.
What About Breast Screening?
Breast implants cause very little, if any, interference with mammography. However, it is important you discuss your risk of breast cancer with your Plastic Surgeon and GP, especially if you have a first-degree relative with a history of cancer. All women who have had breast implants should inform their radiographer so tests can be adjusted as needed.
What Should I Bring to my Consultations?
We also recommend you bring a friend or relative with you to help discuss the information provided and your choices. Wear simple clothing in case you need to undress for a physical exam. We also recommend you bring a notepad and thoroughly read all documents provided by Dr. Drielsma so you can make the best, most informed decision.
What about BIA ALCL that is in the news at the moment ?
BIA ALCL or Breast Implant Associated Anaplastic Large Cell Lymphoma is a rare form of cancer involving breast capsule tissue. It is not breast cancer.  Its incidence and cause continues to be debated around the world but it is very rare, affecting around one in 4,000 to 10,000 woman who have certain types of breast implants.  For a detailed statement from ASAPS on this condition as we presently understand it, follow this link.
For the latest information on BIA ALCL you can also look at the TGA Breast Implant Hub
NEXT STEP: Book your Initial Consultation
Call on 1800 180 777 to arrange your surgeon consultation appointment.
A Referral from your GP or specialist is helpful but NOT essential – you can have a consultation without a GP Referral
Book a consultation with Dr Drielsma by paying the $150 deposit for consultation fee.
What to Bring to your Surgeon Consultation
Bring a friend or relative to help discuss the information and consider your choices
Take lots of notes and read the documents provided thoroughly
You may need to undress for a physical exam so wear simple clothing
Want further information before scheduling your Surgeon consultation?
Request further information about the procedure – call or contact us
Book a Complimentary patient Advisor Consultation (FREE)
Organise a phone call with Patient Advisor (FREE)
Speak with a past patient that has had the procedure – call or contact us