If you have large or heavy breasts then you know the physical discomfort, difficulties and even pain they can cause. Larger breasts make exercising difficult. And it can be almost impossible to find a well-fitting bra that doesn't create a "digging in" feeling. So, as you can imagine, many women feel that breast reduction surgery is definitely worth it. So join us as we discuss the 7 reasons for breast reduction surgery.
Why Do Women Look For Breast Reduction Surgery?
Did you know that around 40% of Australian Women buy bras at a size DD or bigger. It is safe to say that large, heavy breasts are common for Australian women. And it is also safe to say that many women seek to minimise the size and appearance of large breasts. Large is not always best and it's no surprise breast reduction surgeries are increasingly common. Many women seek out breast reduction to improve their quality of life.
Large breasts can cause many physical pain, issues with clothing and social issues. Heavy breasts are commonly linked with back, neck and shoulder pain. Many experience chaffing, skin infections and other discomforts. Women often complain that large breasts cause them to look heavier than their actual weight.
Australian women often mention how they experience harassment and unwanted attention in social situations. When combined with upper body pain, poor posture, skin issues, sleep discomfort and exercise limitations, it's no wonder Australian women seek to reduce the look of their breast size.
Women find they get the best results with breast reduction surgery. Breast reduction can help reduce the size and reshape large breasts. This is a life changing operation, with patients wondering why they didn't do it earlier. Here are our 7 reasons for breast reduction surgery.
1: Social Confidence
Many women say they felt uncomfortable before Breast Reduction. They also attract unwanted attention. After Reduction women find they are more comfortable in social situations. A further issue women may experience with larger breasts is social embarrassment. Many women with larger breasts find, in social and interpersonal situations and relationships, their breasts become the focal point of very unwanted attention.
It is unfortunate that, in our society, there is an assumption that women with large breasts want attention. Many patients, as a result, have experienced uncomfortable social interactions and advances.

2: Clothing Freedom
Further, attractive clothing and bras are simply not made to accommodate people with larger, heavier breasts. Bras are, in general, extremely uncomfortable and can cause a "digging in" feeling. This is a result of the underwire or the tightness of the bra straps, which can also lead to skin indentations or "bra grooves". Bras that do fit are, generally, unattractive and very expensive.
And we have all experienced the frustrations of the peek-a-boo gaps large breasts cause in button-up shirts, blouses and dresses. So it is little wonder that many women seek breast reduction, just to feel more comfortable socially and physically.
3: Less Skin Infection
Overly large breasts can cause rubbing, rashes and skin infections. Reduction Surgery reduces skin issues by making the breast smaller, removing the environment where skin irritation occurs.
4: Less Bra Grooves
Heavy Breasts can pull on bra straps, causing shoulder pain and even grooves in the skin. Reducing the size of the breast relieves the strain, making bras more comfortable.
Following your breast reduction procedure, you will need to wear one of the recommended types of surgical support bras. This will help support your newly reshaped breasts as they heal. Information and advice on the right bra for your recovery period will be provided during your consultation and from Dr Drielsma's patient advisors.
Once you are healed, and your surgeon has given you the all clear to wear an underwire bra again, it is recommended that you get properly refitted and remeasured again. This includes for correctly fitting sports bras, to ensure you are properly supported at all times.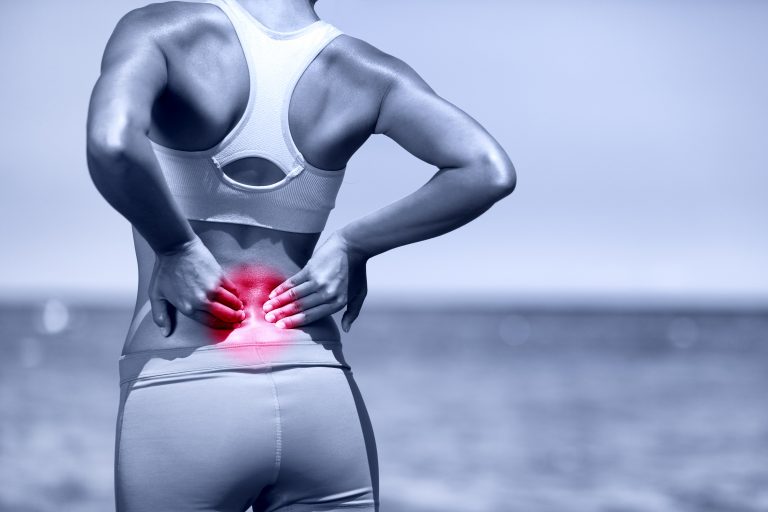 5: Reduced Pain
Women who carry extra weight on their chest due to large breasts, is proven to cause physical discomfort. This can range from neck and shoulder pain, to back pain, as well as exacerbating other physical issues and injuries you may already be experiencing.
Further, heavier breasts can have a detrimental impact on both the skeletal make up and on your posture. This can lead to issues with balance and even chronic headaches.
As a result, many women seek breast reduction surgery to help them with chronic pain issues and to avoid taking long term pain medications.
6: Easy Exercise
Many of our patients express how a breast reduction actually allows them far better freedom of movement. Larger, heavy breasts can often prevent you from easily going about day to day tasks like exercising, and in some cases, even reaching for items or across the body.
Walking, running and exercising in general can cause a lot of train on heavy or large breasts, causing pain in the chest and general discomfort. Which, as a result, puts many women off regular exercise. In many cases, even high-impact sports bras cannot fully support larger breasts.
This is why many patients find themselves more active after a breast reduction procedure, as they are no longer being held back by the fear of pain or discomfort from their breasts. In fact, according to a 2013 study, not only did patients experience less physical pain and a significant improvement in their ability to exercise, they also were able to sleep more comfortably.
7: Improved Posture
Having large breasts can weigh women down, causing them to stoop or slouch. Breast Reduction surgery helps improve natural posture, allowing women to sit and stand straighter, and more comfortably.
Interested in finding out more about the 7 reasons for breast reduction surgery? Visit our Breast Reduction page for further information or contact Dr Drielsma today. Dr Drielsma is available in Sydney, Wagga Wagga, Camden and Canberra. If you would like to discuss your Breast Reduction surgery contact us today!