A breast reduction, also known by the medical term "bilateral reduction mammoplasty" is an operation to reduce breast size and breast weight. These procedures reduces breast tissue and tighten breast skin. This lightens the upper body and takes dragging weight off the chest, shoulders and neck and provides a more comfortable, firmer and uplifted breast. Woman who undergo breast reduction form the happiest group of patients in Dr Drielsma's practice. This is because breast reduction not only alleviates crippling symptoms associated with macromastia (large breasts) but also boosts self confidence and esteem and allows better participation in sporting and recreational activities.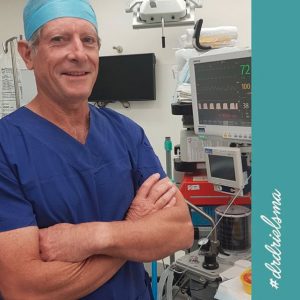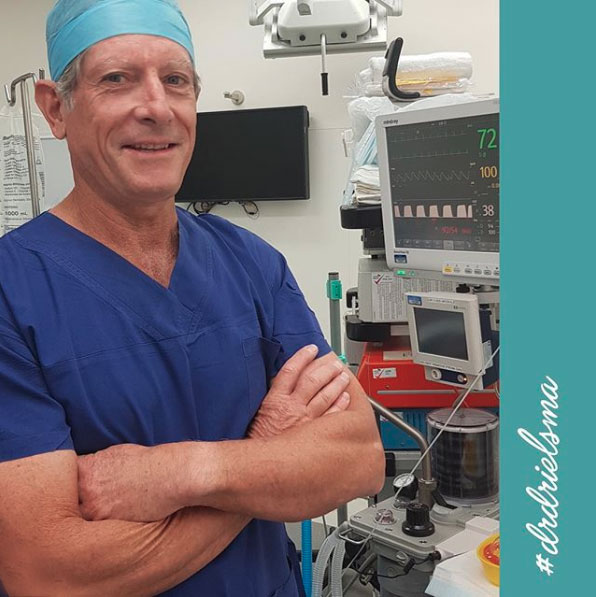 Breast Reduction Before and After Gallery
Click the image below to see the amazing transformations of Dr. Drielsma's Breast Reduction patients.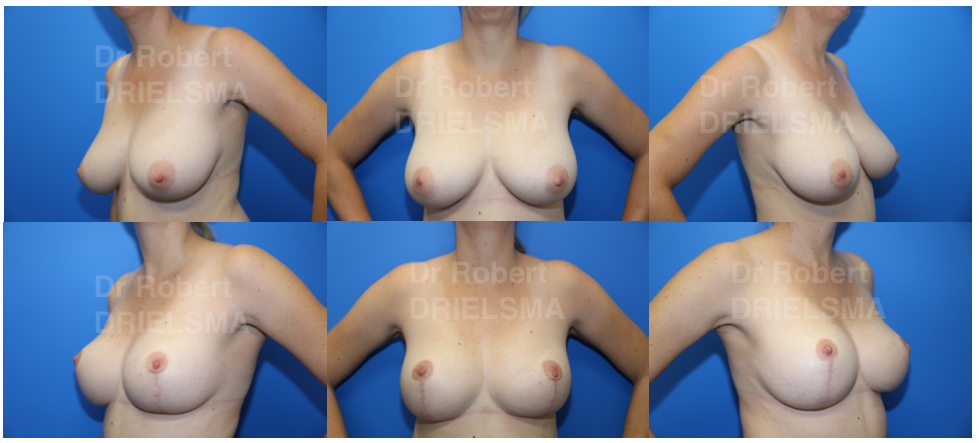 Breast Reduction Plastic Surgeon
Larger breasts can cause many physical, social, and emotional problems.
Larger breasts can cause physical discomfort and pain, often in the form of chafing, skin infections and rashes. Back, shoulder and neck pain is common due to weight dragging on these structures. Women with large breasts may find it difficult to find Bras that fit comfortably or that are indeed big enough. Bra straps often cut in to the shoulders. In addition fitting day to day clothing can prove difficult. As a result, every day social and recreational activities can be difficult or downright impossible to participate in.
Oversized breasts can lead to psychological stress due to embarrassment and low self esteem. A breast reduction always involves a breast lift which will give the added bonus of a perkier, better shaped breast. This will boost self image, confidence and esteem.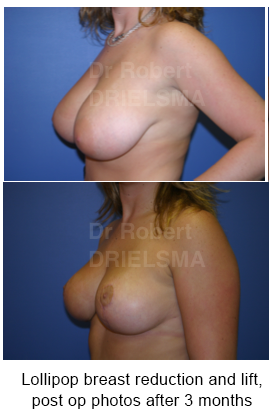 Breast Reduction Techniques
There are a number of breast reduction techniques and the one used for your procedure depends on the surgeon and on your personal needs. The correct procedure for you is something you will need to discuss with Dr Drielsma during your consultation.
The two methods most recognised in Australia are the LeJour Vertical technique and the anchor or "inverted T" incision technique. Also known as the "Lollipop" technique, the Le Jour technique is Dr Drielsma's preferred method of breast reduction surgery.
The advantages of the "Lollipop" Technique are:
It dramatically reduces scar load with no scar running along the crease under the breast. This equates to a scar length reduction of over 50%
It delivers a more natural shaped result. This is due to the fact it does not constrict the lower breast pole skin envelope which means the remaining breast tissue can settle into a natural rounded shape.
In contrast, inverted T techniques tend to produce squaring or boxiness of the lower breast pole.
The natural resulting shape of a lollipop reduction/lift tend to improve with time whereas an inverted T tends to deteriorate with time.
Dr Drielsma performs the lollipop technique in about 90% of cases and has performed thousands in his 25 yrs of surgical practice. He also does inverted T reductions where necessary when the breasts are just too large for a lollipop. Dr Drielsma will discuss this with you following examination at consultation.
Occasionally liposuction may be used as an adjunct to breast reduction but liposuction has little role as a stand alone technique as it will cause worsened breast sag and droop.
Breast Reduction Procedure
Breast reduction surgery should only be performed by a fully qualified plastic surgeon in an accredited  hospital under general anaesthetic.  Dr Drielsma only works with Australia's leading teams of surgical staff and anaesthetists in fully licensed, compliant hospitals with the highest of safety standards.
Theatre time is generally 2.5-3 hours, though this time varies depending on the patient and the degree of surgery the patient needs to achieve the results required.
During your procedure, Dr Drielsma will surgically remove the necessary amount of breast tissue to reduce your breast proportions and overall breast weight. Dr Drielsma uses the LeJour / Lollipop technique except in extremely large reduction cases. Your breasts determine the amount of tissue Dr Drielsma be remove. Further, using the Lollipop technique, a larger breast will require removing more tissue than a smaller breast.
The nipples are then repositioned higher on the breast mound and adjustment of the remaining tissue undertaken to form a perkier, firmer breast. This is part of the contouring and sculpting process to create more natural looking breast contour and reduce sagging.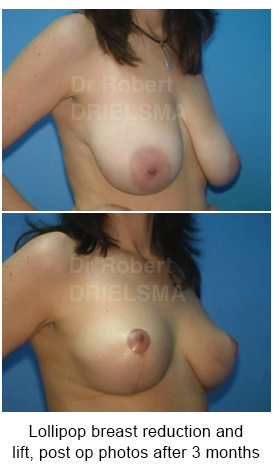 Breast Reduction Recovery
There is generally little pain associated with breast reduction and most, if not all of Dr Drielsma's patients are pleasantly surprised how comfortable and smooth the recovery process is. One night in hospital is all that is required following breast reduction surgery. Drains are placed in each breast which are easily removed the next morning before discharge. Dressings on the breast lollipop stitch lines are kept dry for a week following which they are simplified and showering is permitted.
Most patients require about 2 weeks off work. We recommend patients do not return to normal physical exercise for around 6 weeks.
Swelling from your procedure can take up to 4 to 6 weeks and some 6 months or so to settle into their final size and shape.
Breast Reduction Scarring
It is important to remember that all surgery involves some scarring. Your ultimate level of scarring will depend on several factors, including the technique used. The huge advantage of the "lollipop" method, also known as the "vertical minimal scar technique" is that scar load, or the length of scarring, is significantly reduced – by over 50%, compared with anchor or "inverted T" techniques. The lollipop technique also delivers a superior, rounded shape without the tendency for boxiness or squaring of the lower breast pole.
Scars soften and fade in a maturation process that takes up to 2 years to complete after surgery, resulting in very acceptable scars you will be satisfied with.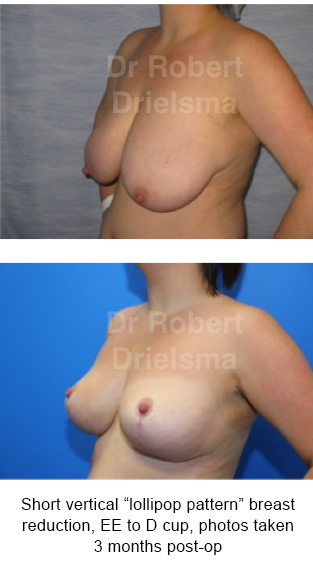 Breast Reduction and Breast Feeding
In a significant number of cases it is possible that your Breast Reduction surgery may affect your ability to breast feed.  This is due to the removal of breast tissue and disconnection of remaining breast tissue from the nipple.  It is important to discuss any future plans to breast feed with Dr. Drielsma during your consultation.
Are You a Good Breast Reduction Candidate?
Choosing breast reduction surgery is a deeply personal decision. It is important to have a private consultation with a fully qualified specialist plastic surgeon, like Dr Robert Drielsma, to determine if this is the right procedure for you. However, you should consider the following questions before your consultation:
Do you dislike having large breasts or feel they are out of proportion with the rest of your physique?
Are you suffering physical symptoms such as typically back, shoulder and neck pain
Do you feel self conscious in public because of your breast size and find your participation in social or recreational activities is restricted because of this.  For example, going to the beach, playing sport, walking down the street.
Are you have difficulty fitting in bras or clothes because of your breast size?
Would you prefer better cleavage?
Are you unhappy with changes to your breasts post-pregnancy or post-weight loss, including sagging?
Do you feel you have asymmetrical breasts?
Are you seeking a breast reduction to boost your confidence?
Do you want a breast reduction to feel more comfortable in different kinds of clothing?
Would you like to improve your figure and overall body proportions?
Do you find your breasts cause skin infections and rashes?
Breast Reduction Before and After Gallery
Click the image below to see the amazing transformations of Dr. Drielsma's Breast Reduction patients.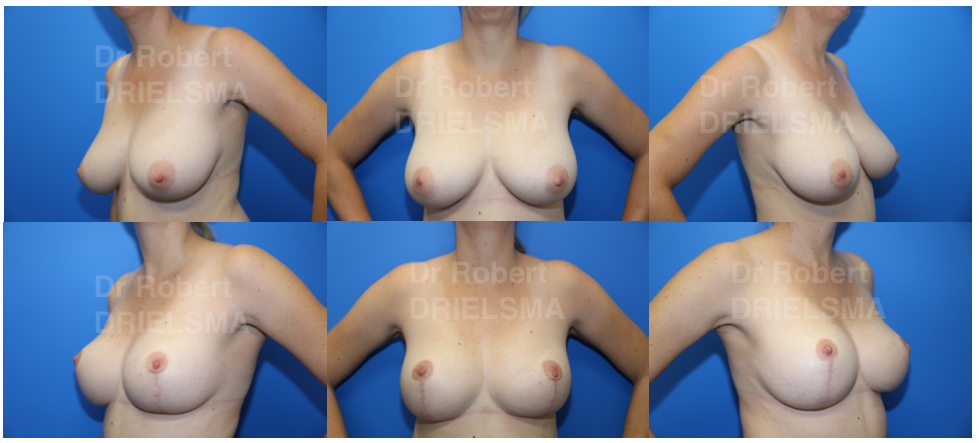 Breast Reduction Plastic Surgeon
Dr. Robert Dielsma is one of Australia's leading Breast Surgeons who specialises in bringing the size of your chest into harmony with the rest of your body. Dr. Drielsma is available at Bondi Junction (Bondi Beach),  Wagga Wagga and Canberra.
Your breast reduction procedure will be customised to suit your body and your needs. However, all breast reduction surgeries with Dr Drielsma will take the following into account:
Your existing breast tissue
The size and weight of your breasts
Position of the breast and nipple
The health and elasticity of your breasts
Your underlying chest muscles
The breast size you would prefer
Your preferred nipple size, appearance, and location
How Much Does Breast Reduction Surgery Cost?
The cost of Breast Reduction surgery varies from surgeon to surgeon. Price is a poor indicator of the training or experience of a surgeon. Always do your homework to avoid dangerously underpriced surgery or ridiculously overpriced surgery. The more important issue for you is that you are satisfied the surgeon you choose will be doing your breast reduction safely and well, giving you the optimal cosmetic outcome. Shopping around based on price will not do this for you. You should be happy with the quality of service and experience you are being offered for the price of your surgery.
Be wary of the pitfalls of cheap cosmetic surgery, especially surgery performed overseas.
It is crucial you get it done right the first time.
Dr Drielsma does not do cheap surgery, he fixes it.
What Are the Risks of Breast Reduction Surgery?
Due to weight and/or hormonal changes, breast tissue can sometimes grow back, however this not a common issue. In these unusual cases you may need a secondary breast reduction procedure.
As with any surgical procedure, there are potential risks and complications when it comes to breast reduction surgery. These complications are unusual but can involve bleeding and infection.
*There are also consequences from surgery that are expected but acceptable, e.g. scarring and sensation changes. All aspects of things to expect and possible complications will be explained in detail during your consultation.
*Breast reduction requires a general anaesthetic and your anaesthetist will discuss the possible discomforts and any possible complications that may occur.
*Although every attempt is made to obtain symmetry and natural breast shape, as with all women and natural breasts, there may be some difference in the final size and shape of your breasts, and areola and nipple position. Treat you breasts as sisters, not twins.
Further Reading
https://drdrielsma.com.au/top-3-reasons-breast-reduction-helps/
https://drdrielsma.com.au/what-is-normal-during-breast-reduction-recovery/
https://drdrielsma.com.au/12-honest-things-to-know-about-breast-reduction-recovery/
https://drdrielsma.com.au/the-truth-about-scarless-breast-reduction/
https://drdrielsma.com.au/is-society-changing-views-on-large-breasts-the-rise-of-breast-reduction/
https://drdrielsma.com.au/9-signs-its-time-for-a-breast-reduction-procedure/
https://drdrielsma.com.au/breast-reduction-happens-nipples/
Next Steps
Book your Initial Consultation
Email us at info@drdrielsma.com.au or call on 1800 180 777 to arrange your consultation appointment with Dr D.
A referral from your GP or specialist is recommended – A referral will allow you to claim a medicare rebate towards your consultation and also entitle you to medicare rebates for subsequent breast reduction surgery.
Visit our FAQs pages, learn more about your procedure, have a look at our photo galleries and patient reviews.
What to Bring to your Surgeon Consultation
Bring a friend or relative to help discuss the information and consider your choices
Take lots of notes and read the documents provided thoroughly
You may need to undress for a physical exam so wear simple clothing
Want more information before scheduling your Surgeon consultation?
Request further information about the procedure – call or contact us
Book a complimentary patient advisor consultation
Organise a phone call with patient advisor
Speak with a past patient that has had the procedure – call or contact us
Resources
Australasian Society of Aesthetic Plastic Surgeons. November 2018. Breast Reduction. [online] Available: https://aestheticplasticsurgeons.org.au/your-surgery/breast-surgeries/breast-reduction/ (accessed November 28 2018)
International Society of Aesthetic Plastic Surgeons. November 2018. Breast Reduction Surgery 101. [online] Available: https://www.isaps.org/blog/breast-reduction-surgery-101/ (November 28 2018)
Australian Society of Plastic Surgeons. November 2018. Breast Reduction. [online] Available: https://plasticsurgery.org.au/procedures/surgical-procedures/breast-reduction/ (accessed November 28 2018)
International Society of Aesthetic Plastic Surgeons. November 2018. Breast Reduction. [online] Available: https://www.isaps.org/procedures/breasts/breast-reduction/ (accessed November 28 2018)
International Society of Aesthetic Plastic Surgeons. November 2018. The Benefits of Breast Reduction. [online] Available: https://www.isaps.org/blog/benefits-breast-reduction/ (accessed November 28 2018)
If you would like to find out more about Breast Reduction surgery or if you would like to book a consultation with Dr. Drielsma please visit our Contact Page or call 1800 180 777.
Dr. Robert Drielsma's affiliations include:
*Disclaimer: Individual results can vary significantly from patient to patient. The information we provide is of a general nature. For further information on what to expect for your preferred procedures, arrange to see Dr Drielsma for a full-history and surgical consultation.