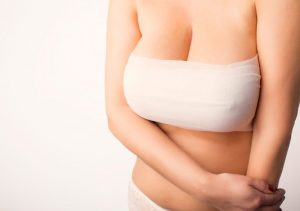 Did you know that around 40% of Australian Women buy bras at a size DD or bigger. It is safe to say that large, heavy breasts are common for Australian women. And it is also safe to say that many women seek to minimise the size and appearance of large breasts. Large is not always best and it's no surprise breast reduction surgeries are increasingly common. Many women seek out breast reduction to improve their quality of life.
Large breasts can cause many physical pain, issues with clothing and social issues. Heavy breasts are commonly linked with back, neck and shoulder pain. Many experience chaffing, skin infections and other discomforts. Women often complain that large breasts cause them to look heavier than their actual weight.
Australian women often mention how they experience harassment and unwanted attention in social situations. When combined with upper body pain, poor posture, skin issues, sleep discomfort and exercise limitations, it's no wonder Australian women seek to reduce the look of their breast size.
There are some temporary ways to reduce how large your breasts look. However, living with large, heavy breasts isn't easy. Women suffering from overly generous breasts have to adapt their lives carefully to conceal the size of their chest. Women shop carefully for clothing that helps minimise the size of their breasts. It restricts their choice in clothing.
A well fitting, supportive bra can help minimise the look of large breasts. You will need to be carefully fitted each time you go shopping, however. The best bras for large breasts have cups that cover most of the breast tissue. The band should rest in a horizontal line against the back and the bra straps should comfortably support breast weight. A good, well fitted bra can help give a more refined appearance of the waistline.
Weight loss can also help reduce the size of large breasts. As breasts are mostly composed of fatty tissue, this can help. However dieting and weight loss can only do so much. Many women who lose weight often find that their breasts being to look "empty" rather than gaining a smaller, perkier shape. Strength training three times a week, ideally with a personal trainer, can also help build upper body strength to support the weight of their breasts. It can also help improve posture but you will need a well-fitted sports bra to stop painful movement and stretching of the breasts.
However, all these options are temporary and can only help you get so far. Women find they get the best results with breast reduction surgery. Breast reduction can help reduce the size and reshape large breasts. This is a life changing operation, with patients wondering why they didn't do it earlier.
Breast reduction surgery can give you smaller, perkier breasts. But more than that, women find relief from pain, fashion freedom and new found, social confidence. Breast reduction surgery has the highest rate of satisfaction of any type of breast surgery. If you are considering breast reduction surgery, know you're not alone. Many women, including celebrities like Ariel Winter, who have overly-generous breasts seek out breast reduction surgery.
Breast reduction surgery is one of the more complex breast surgeries, especially if you need to correct an asymmetry in your breasts. It is important that you choose an experienced plastic surgeon, like Dr. Drielsma. Dr. Drielsma has over 20 years experience in complex breast surgery. Contact us today or call to book a consultation if you would like to discuss the freedom breast reduction surgery can give you!